Workplace separation solutions
As one of Ireland and the UK's leading workstation providers. We're ready to provide quickly deployable workplace separation solutions in response to demand from our customers.
Workplace Partitions
Typically used to eliminate cross-contamination between production lines in medical device manufacturing. Our partition products are ideal for ensuring the health and safety of people working in vital industries during these challenging times. Our team is ready to help you safely ensure the continuity of your operation by designing, assembling and shipping a range of solutions with a fast turnaround. Quantum 3 is a lean manufacturing supply partner to some of the world's largest tech, pharma and medical device companies. Our internal, lean processes allow lighting fast order fulfilment from design to shipping.
All our workplace separation solutions are built using a variety of modern clean-tech materials such as composites, polycarbonate windows and sturdy extruded aluminium frames for lightness and durability. All solutions are compatible with cleaning and sterilisation protocols, ensuring you have a safe and clean workspace.
Talk to our technical team today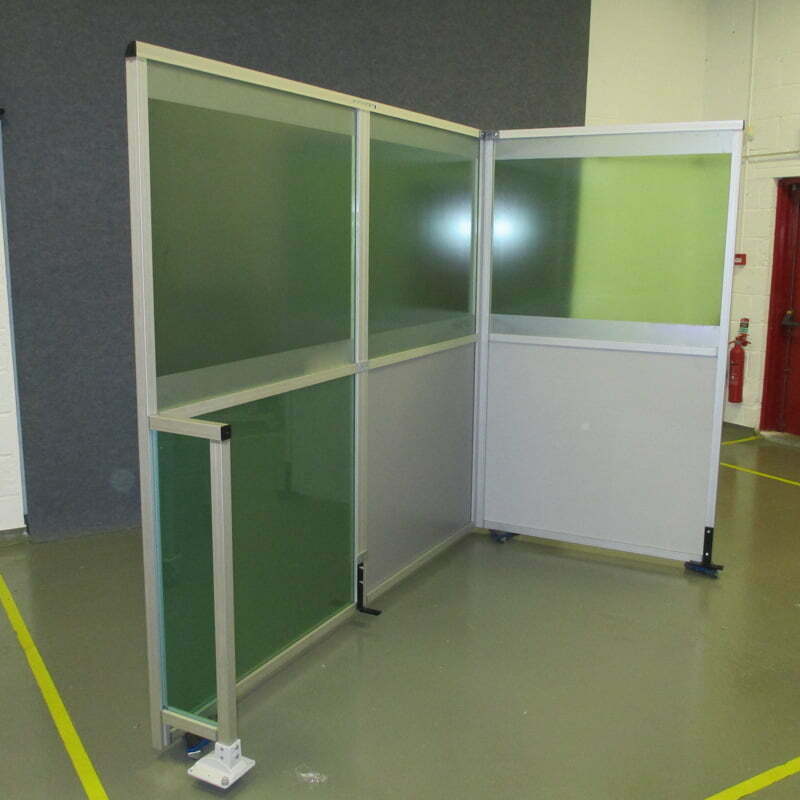 Moveable partitions  – in standard and custom sizes
Quickly manufactured to your specification, these free-standing partitions are delivered flat-packed and can be assembled in minutes using Allen keys. We can supply in table-top and floor-standing configurations with solid or clear panels for safety, communication and visibility.
Room Dividers
Quickly deploy partitions in workrooms ensuring that your critical workers can comply with social distancing guidelines while safely operating.  Our lean design and build processes can quickly design and manufacture a full-room solution around existing furniture and equipment.
Area Partitions
These full area partitions allow quick reconfiguration of large open areas into safe, separated cells, should the unthinkable happen and a worker is required to self-isolate. These large partitions help to minimise the number of close contacts that would also need to self-isolate. The interconnecting,  modular construction makes them simple to erect with minimal disruption.
How to order?
Of course, every room is different, but our design engineers are fully resourced to provide a fast turnaround set of drawings for approval. If you have a plan drawing etc. of the area you need to section, please feel free to upload, otherwise, simply add your contact details to have one of the team call you for specific details.